Description of Valve Operation
A compact, quick acting, sanitary major vacuum breaker for eliminating air from processing lines. It offers two-way passage of air flow until the line is pressurized, then the plug rises and closes the valve. When depressurized, the plug drops, which allows air back into the system, draining the line of liquid
FEATURES
Easy to clean and assemble
All 316 stainless steel
Positive sealing with negligible spitting
Both the QV and QVO have the same action.
The QVO with its O-ring seal is designed for hot, crusting liquids and abusive environments where the QV's metal-to-metal seat may be damaged.
DAIRY OPERATION NEEDS FOR VACUUM BREAKING & VENTING:
HTST Pasteurization - for protection of heat generators against siphon drainage; Vacuum Pasteurization - preventing exposure of flow diversion valves to downstream vacuum;
Uses:
Siphon prevention.
Venting air from liquid lines and allowing lines to drain.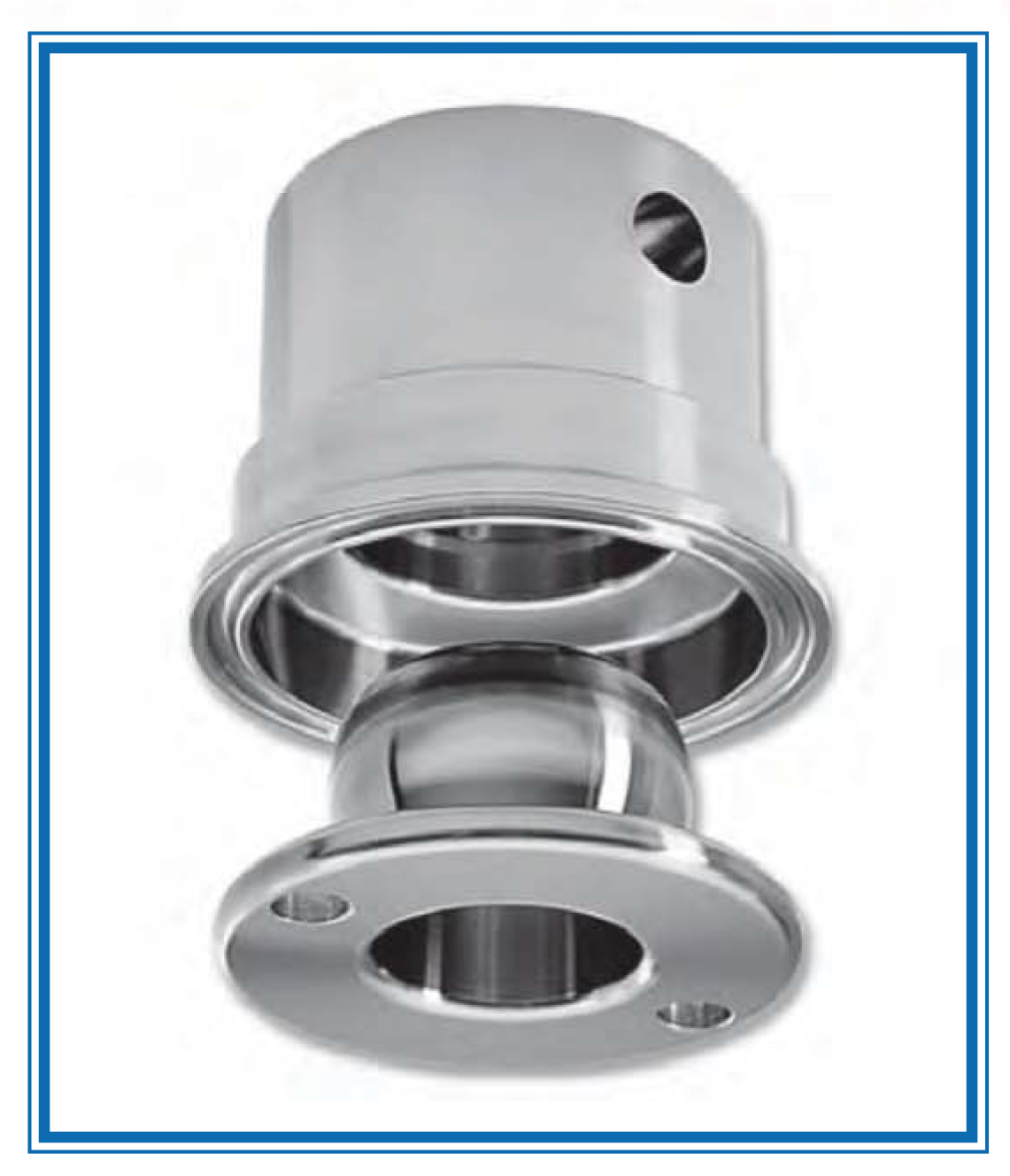 QV/QVO VALVES
These valves work reliably when used in milk processing lines. Milk fats serve as lubricants for the valves. For products not containing natural lubricants, approved lubricants may be used. If using a QVO valve, try teflon coated Buna-N or Viton O-rings.
Notes:
Due to varying conditions of each system, every Q-Control valve should be tested in place before being relied upon for protection during operation.
Information presented is general and may not apply to the conditions of individual installation.
The manufacturer's warranty relates to workmanship, sanitary requirements, and action as tested when shipped. Any liability cannot exceed the price of the valve.
Valve Specification
| | | | |
| --- | --- | --- | --- |
| Line Size | 1 1/2" | 2" | 2 1/2" |
| Valve Height | 1-11/16" | 1 - 7/8" | 1 - 7/8" |
| Q-Seat Diameter | 3/4" | 1-1/4" | 1-1/4" |
| Orifice Diameter - Equiv. Net Air Flow | 3/16" | 11/32" | 11/32" |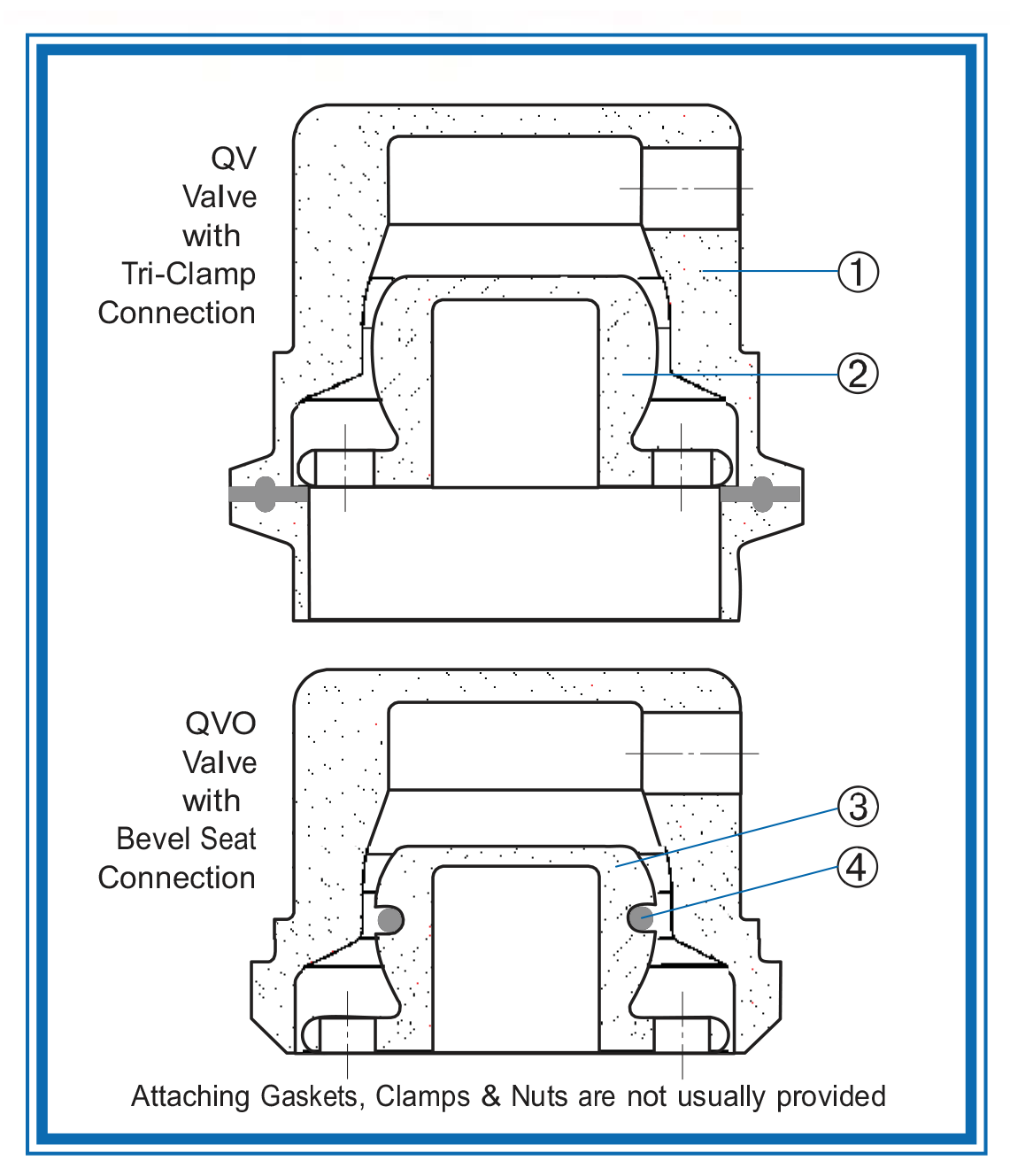 Valves
| Part No. | TriClamp Valves | Part No | Bevel Seat Valves |
| --- | --- | --- | --- |
| 15QVTC | 1.5" QV-TriClamp | 15QVBS | 1.5" QV-Bevel Seat |
| 15QVOTC | 1.5" QVO-TriClamp 1 | 15QVOBS | 1.5" QVO-Bevel Seat |
| 20QVTC | 2" QV-TriClamp | 20QVBS | 2" QV-Bevel Seat |
| 20QVOTC | 2" QVO-TriClamp | 20QVOBS | 2" QVO-Bevel Seat |
| 25QVTC | 2.5" QV-TriClamp | 25QVBS | 2.5" QV-Bevel Seat |
| 25QVOTC | 2.5" QVO-TriClamp | 25QVOBS | 2.5" QVO-Bevel Seat |
Individual Parts
| Item | Part No. | Description | Material |
| --- | --- | --- | --- |
| | QV15BDT | 1.5" QV Body - TriClamp | 316SS |
| | QV15BDB | 1.5" QV Body - Bevel Seat | 316SS |
| | QV15PL | 1.5" QV Plug | 316SS |
| | QV15PL | 1.5" QVO Plug | 316SS |
| | OR113B | 1.5" O-ring | Buna-N |
| | OR113TC | 1.5" O-ring -Teflon Coated | Buna-N |
| | OR113V | 1.5" O-ring | Viton |
| 1* | QV20BDT | 2" QV Body - TriClamp | 316SS |
| | QV20BDB | 2" QV Body - Bevel Seat | 316SS |
| 2* | QV20PL | 2" QV Plug | 316SS |
| 3 | QVO20PL | 2" QVO Plug | 316SS |
| 4 | OR214B | 2" O-ring | Buna-N |
| | OR214TC | 2" O-ring - Teflon Coated | Buna-N |
| | OR214V | 2" O-ring | Viton |
| | QV25AT | Adapter, 2" to 21/2" Line, TriClamp end | 316SS |
| | QV25AB | Adapter, 2" to 21/2" Line, Bevel Seat end | 316SS |