Description
A spring loaded, self-setting, self-actuating sanitary pressure relief valve that is preset and actuated solely and directly by the upstream static line pressure. It combines quick and easy cleaning and assembly with low blowdown and accumulation. An opening relief pressure is set at the factory between 45 and 90 PSI. Its relief capacity of 90 gallons per minute can be dumped (alarm mode), or recirculated depending upon the users requirements. The valve may be installed in any position, but vertical is recommended for uniform parts wear.
FEATURES:
Automatic resetting
Low accumulation
Positive sealing
Easy disassembly for cleaning
Straight flow
All 302/316 stainless steels
No thread tightening to pre-load pressure settings
USES:
Protect sanitary lines and equipment (not tanks) against excessive pressure, with or without recovery of discharge
Protection of HTST installations

DEFINITIONS
Opening Relief Pressure - The pressure at which the valve starts to open and drip. Opening relief pressure should be set high enough (approximately 25% above operating pressure) to prevent dripping due to normal pressure fluctuations in the system (such as opening and closing of diverting valves). Systems subject to higher than normal pressure surges should have an opening relief pressure level approximately 30% above the operating pressure.
Blowdown - The amount of pressure (PSI) that must be reduced below the opening relief pressure to attain positive closure. Blowdown of 20% is typical for a 2" QST set at 90 PSI.
Accumulation - The amount of additional pressure (PSI), beyond the opening relief pressure level required to open the valve for a given relief capacity. Accumulation of 20 to 30% is typical for a 2" QST set at 90 PSI to reach its 90 GPM limit.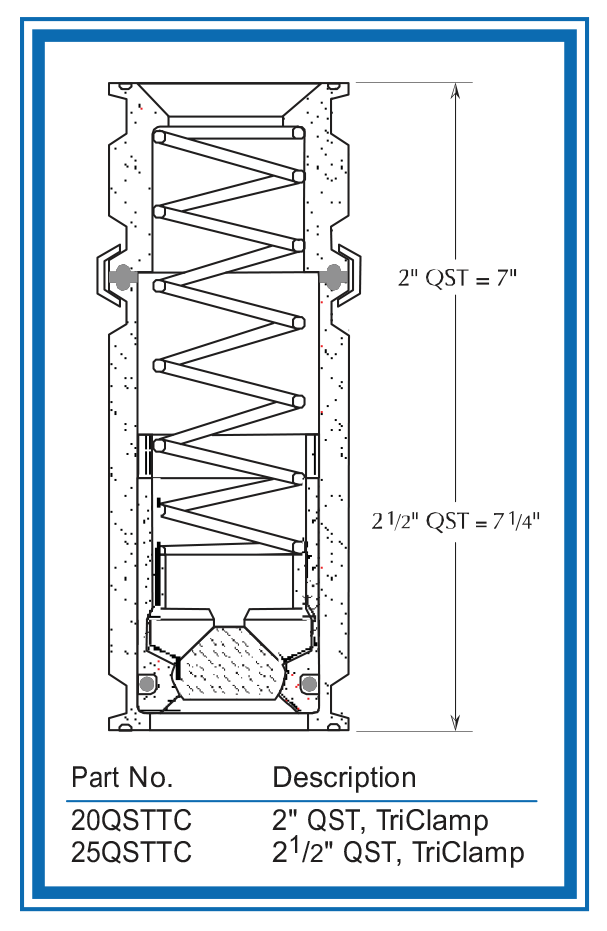 HOW THE QST WORKS:
The sleeve (7) telescopes into the body (9) under increasing line pressure. When the pressure setting ring (4) contacts the body's inside shoulder at (2), the valve has reached its pre-set pressure. Any additional pressure will open the Plug (6), relieving the excess pressure. The Plug resets itself after sufficient pressure has been relieved.
NOTES:
Due to varying conditions of each system, every Q-Control valve should be tested in place before being relied upon for protection during operation
Information presented is general and may not apply to the conditions of individual installation.
The manufacturer's warranty relates to workmanship, sanitary requirements, and action as tested when shipped. Any liability cannot exceed the price of the valve.
| Item | Part No. | Description | Material |
| --- | --- | --- | --- |
| 1 | QST20UB | Upper Body - 2" | 316SS |
| | QST25UB | Upper Body - 2.5" | 316SS |
| 2 | 40MPU2 | Gasket - 2" TriClover | Buna-N |
| | 40MPU2.5 | Gasket - 2.5" TriClover | Buna-N |
| 3 | 13MHLA-2 | Clamp - 2" TriClover | 302SS |
| | 13MHLA-2.5 | Clamp - 2.5" TriClover | 302SS |
| 4 | QST20SR | Pressure Ring - 2" | 316SS |
| | QST25SR | Pressure Ring - 2.5" | 316SS |
| 5 | QST20SP | Spring - 2" | 302SS |
| | QST25SP | Spring - 2.5" | 302SS |
| 6* | QST20PL | Plug - 2" | 316SS |
| | QST25PL | Plug - 2.5" | 316SS |
| 7* | QST20SL | Sleeve - 2" | 316SS |
| | QST25SL | Sleeve - 2.5" | 316SS |
| 8** | OR326B | O-ring - 2" | Buna-N |
| | OR330B | O-ring - 2.5" | Buna-N |
| 9 | QST20LB | Lower Body - 2" | 316SS |
| | QST25LB | Lower Body - 2.5" | 316SS |