Description
A rugged, sanitary float valve which combines quick disassembly/assembl y with easy cleaning. Sanitary finish both inside and out allows the valve to be fully submerged. The balanced plug with O-ring seals provides positive sealing. It can withstand inlet pressures up to 60 psi. It handles 100 gallons per minute at 60 psi.
FEATURES
Easy Installation
Rugged Construction
Easy Cleaning and Assembly
Smooth Open/Closing Action
Full Flow Design
316 Stainless Construction
Use:
Level Control and Overflow Prevention where very narrow variation in liquid levels are tolerated
Throttle Flow Rates
Reduce Pressure
Moderate flow when discharge rate varies
Supply low pressure, even flow rate, (foam prevention)
General level control whenever simple maintenance, economy, avoidance of complicated devices or electrical connections are important factors
QLK FLOAT VALVE INSTALLATION INSTRUCTIONS:
Determine the desired liquid level.
The valve height should be located so that the maximum liquid level is between (L1) and (L2), see sketch.
Mark wall of tank and cut hole accordingly. Weld tank sleeve (8) to the outside of the tank wall. Remove burrs.
Insert valve body (3) with tank seal O-ring (7) in place
Secure body to tank with lock nut (9).
Insert float ball pivot (1) into valve body, locking with O-ring (2).
Make sure that incoming feed line is properly supported and does not expose valve and tank wall to strain.
Connect inlet line to valve.
To minimize foaming, connect 21/2" Tygon tubing (customer provided) to the valve outlet, directing liquid to bottom of tank.
Test valve in place to find liquid level necessary to open and close valve under normal operating conditions.
Make final liquid level adjustments by bending float rod.
Suggested O-ring supply for one year: 6 pieces of Item (2) and (7) and 12 pieces of Items (4) and (6) (see chart).
Available Options:
Teflon coated O-rings (Items 4 & 6) where application requires more lubricity
Viton O-rings (Items 4 & 6) where application requires higher temperatures
Float assembly in type 316SS
Customer specified float arm length - between 6" & 18" - 12" is standard
Notes:
Due to varying conditions in each system, Q-Control Valves should be installed and tested in-place before being relied upon for operation.
Information provided is general and may not apply to conditions of the individual installation
The manufacturer's warranty relates to workmanship, sanitary requirements, and action as tested when shipped. Any liability cannot exceed the price of the valve.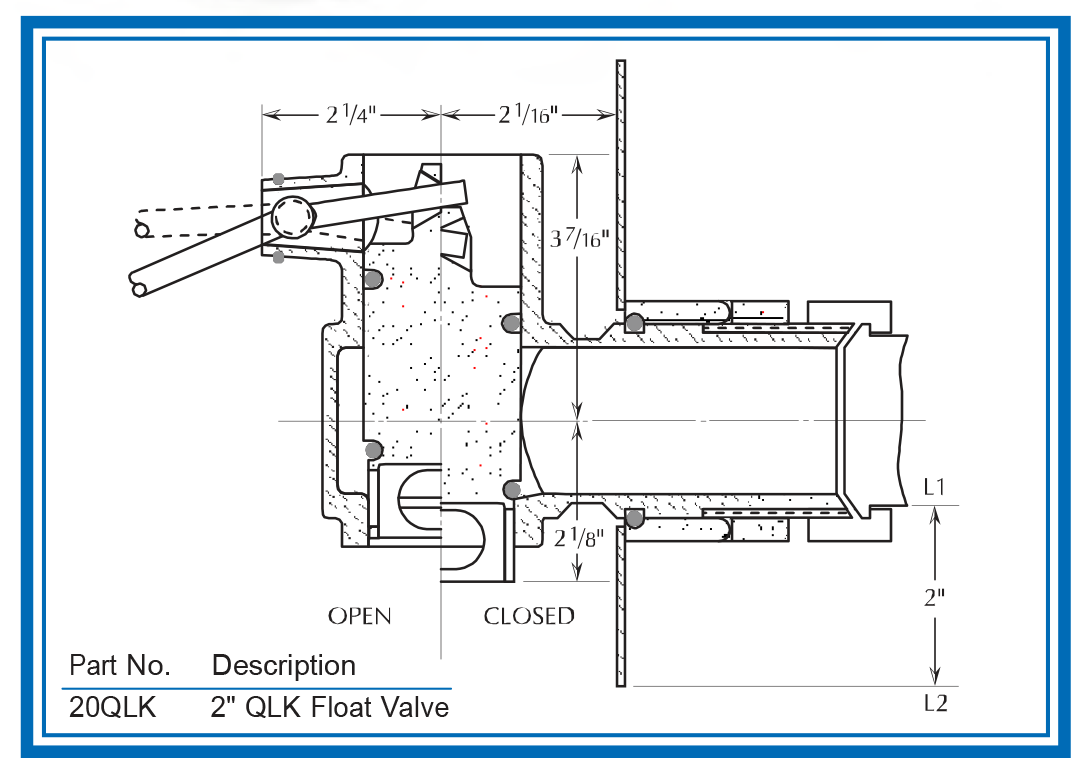 | Item | Part No. | Description | Material |
| --- | --- | --- | --- |
| 1* | QLK20FL | Float, 12" Arm + 6" Dia. Ball - Standard | 316SS |
| 2 | OR210B | O-ring | Buna-N |
| 3 | QLK20BD | Body | 316SS |
| 4** | OR326B | O-ring | Buna-N |
| | OR326TC | O-ring, Plug Teflon Coated | Buna-N |
| | OR326V | O-ring | Viton |
| 5 | QLK20PL | Plug | 316SS |
| 6** | OR325B | O-ring | Buna-N |
| | OR325TC | O-ring, Teflon coated | Buna-N |
| | OR325V | O-ring | Viton |
| 7 | OR331B | O-ring | Buna-N |
| 8 | QLK20SL | Tank Weld Sleeve | 316SS |
| 9 | QLK20LN | Lock Nut | 304SS |